This is the prototype lite version of the NUCserver lineup.
We made it for someone who wants to build their own home lab using NUC mini PCs or wants to install more NUCs in a short depth rack such as a network rack.


Tada!
As you can see, this ordinary 15U, 19″ network rack contains 16 NUCs, one NAS, and a MikroTik CRS226 24-port gigabit switch, as well as a MikroTik CCR1009 router.
2U of rack space is reserved at the bottom for a UPS, and 1U of rack space is available at the top for another device. 
I use rack shelf for 8 NUC prototype. it have no box,screw,manual even painting too.
A standard rack shelf is used to hold 8 NUC mini PCs vertically.
Space is provided between the NUCs and the bottom of the rack shelf for easy cabling.
The shelf has an IP-PDU, which supplies 15V DC to all 8 NUCs and also provides network-based control of the power for each NUC.

Fortunately, it is well fit with 8 port aluminum power strip which normally using at Data Center.
If you mount it on rack, it looks like this.
It looks not bad at all. well mounted and enough strength to hold with 4 screw.
One more thing about 8 NUC rack shelf is IP-PDU.
You can using same IP-PDU which used for NUCserver project.
It can supply DC 15V electricity to all 8 NUC and also give you options to remote control each port of power for each NUC on, off, reset from anywhere in the world.
In the photos of the rear view of the rack, the upper row of NUCs are NUC5CPYH and the lower rack are NUC5i5MYHE.
Unfortunately, this rack have only 6 port power strip.
So , if i connect to NAS for remained one port, i have to give up for using Cooling FAN of rack. Now i consider change to 8 port power strip or using 1K AV APC UPS.
One and last thing is prototype of 3 NUC 1U rack shelf.
Don't you guys think it beautiful?
it just simple rack shelf for mount 3 NUC using VESA mount screws.

this is it. simple and enough space at backside.
You can put power strip in backside or just connect to main power strip.
Many of people try to make mount for NUC at home lab.
Some guys even using Lego blocks.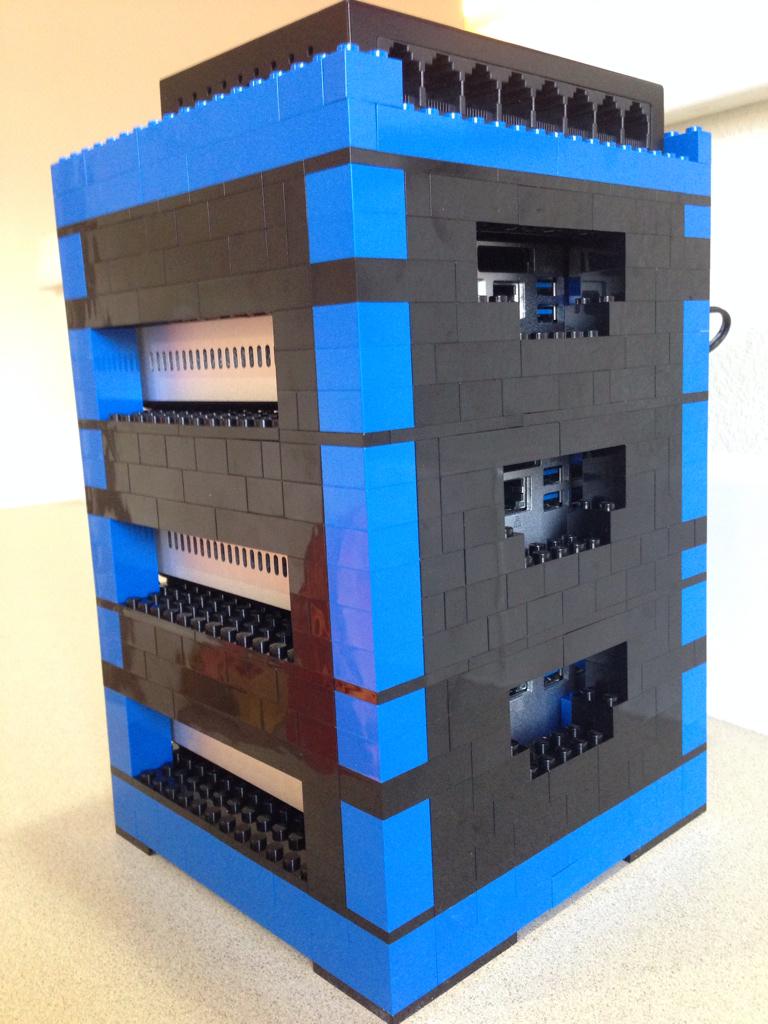 (from : http://www.yellow-bricks.com/2015/01/24/lego-vsan-evorack/)
It is also not bad ideas for stacking NUC. but i'm not big fan of Lego.
Another company made special NUC rack mountable case.
(from : http://g2digital.co.uk/products/rack-pc/1u-nuc/)
It looks professional and neat. but it is not NUC rack shelf. it just new type of NUC  casing and i guess it is expensive. they don't even sell  casing only.
OK, this is news.
I plan to sell my rack shelf on ebay or Amazon with full optional accessory include mountable power strip,  IP-PDU, etc.
Don't be worry, it will ship out after Powder Coating, and safe boxing with anti-shock Styrofoam forming.
Just wait a while. you will find it on the net next within month.
Thanks Jeff.